Best (Free) Tinder VPN to Unblock Geo-blocks & Change Location on Tinder
Vic Knott
2022.07.21
How-to Guides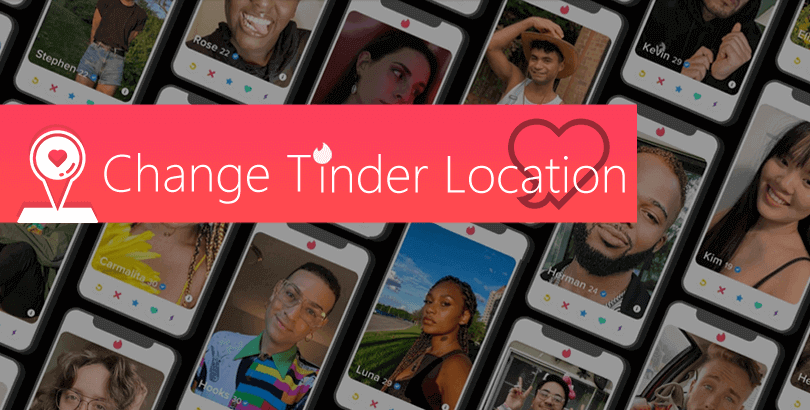 To unblock Tinder dating app in UAE, Pakistan, India, Bangladesh, etc. or want to change Tinder location for different matches, dive into the best Tinder VPN service and possible location altering methods.
Nearly all mobile apps saw a boost in use amid the COVID-19 pandemic, including those dating apps like Tinder, Bumble, Badoo, and Grindr. But due to internet censorship or other possible reasons, people in certain net-censored countries or workplaces are unable to download and enjoy many popular services at all.
Tinder, as one of the most prevalent dating apps, is really worth a shot for newbies pursuing for a romantic connection. It's picked by many tech editors as the No.1 dating application and has achieved over 55 million matches until now, according to its official announcement. So, this article simply comes to help unblock Tinder with Tinder VPN in whatever places, as well as showcasing all registered users 3 ways to change location on Tinder.
3 Steps to Unblock Tinder with a VPN
* This tutorial can also be applied to unblock Bumble/Badoo/Paris/Hinge/Grind and other dating, social, or steaming apps.
No matter where you are, as long as you are experiencing the Tinder blocking/not working problem, it's the outcome of either nationwide app ban or LAN restriction. In other words, it's your government, ISP(Internet Service Provider), employer, or network administrator that performs the content filtering to achieve their goal of supervision. Since the filtering or say blocking runs similarly based on your geological location, you can work it out easily with the help of a solid Tinder VPN like PandaVPN.
PandaVPN is a Seychelles-based VPN which featuring unblocking Tinder on iOS and Android devices with ease. If you are new to this VPN app and your mobile gadget didn't install PandaVPN before, now you can try this premium robust VPN totally free. No manual registration, no personal email address required, you can enjoy an automatic sign-in and smart connection after the installation. Without further ado, let's check out the steps in detail.
Step 1: Download and install PandaVPN
Download this VPN for Tinder from Google Play or Apple's App Store. After the client setup, you will be signed in with an given digital account by default for further free trial.
Note: If your gadget or pad has installed PandaVPN before, then you will have no chance to try it for free again. Please order a plan for a normal usage. Also, all new iOS users should pay for a subscription to enjoy the 7-day free-trial. After that you can ask for a refund at anytime, which will not affect the free trial at all.
Step 2: Make the VPN connection happen
After the sign-in, you will be directed to the main interface of PandaVPN, where you can one-click connect to the fastest server smartly with "Smart Mode" or manually pick a Tinder-friendly server from expected location according to your actual demand, such as the city in the United States, England, France, Italy, and Spain.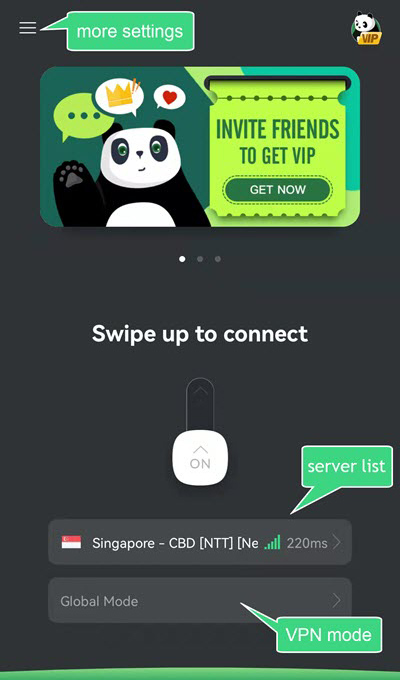 PandaVPN now has more than 3000 servers in 170+ locations around the world. Plus the patented acceleration tech and IPLC (10Gbps) servers, you are able to enjoy an ideally lighting-fast connection speed with no limit and latency.
Step 3: Get Tinder app and an account for free use
After you have been connected to the destination place with PandaVPN, you will obtain an IP address here, thus you can unblock Tinder and download it from stores, or make friends with it directly from the web: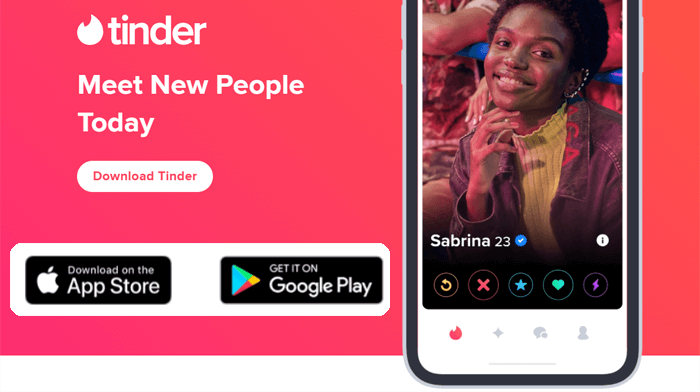 Everyone should create a Tinder account with an available phone number, even you'd like to do log-in with Gmail or Facebook. When the phone number and/or email is verified, just set up your attracting profile, allow the Tinder access,  and swipe right to meet new people either from the web page or from application on iPhone, Android, and Huawei.
Q: How to resolve "Your phone carrier isn't supported." when creating a new Tinder account?
When you receive this error message during Tinder account creation, it means your mobile service provider or say where you bought your SIM card is blocked by Tinder for registering. You can work it out by getting or investing another real or fake phone number from Tinder-supported places.
Currently, Tinder is offered with 56 languages and available in 196 countries. If you don't know which phone carrier to avoid, just go for that from Tinder's most commonly used nations like the United States and United Kingdom.
Change Location on Tinder APP? 3 Ways to Go but Be Cautious for Some
Tinder matches occur by virtue of user's location, age, interest, and other filled details in the profile. However, among those factors, location is not open for free Tinder users to modify once it's confirmed from the very beginning. That said, you can only match singles in your region, even when you are going aboard for travel, business, or other reasons.
Then how to change Tinder location? Here several different approaches are collected for you all, free and paid included.
# Way 1. Pay for Tinder Passport
Tinder Passport is an advanced feature of Tinder's premium subscriptions like Tinder Plus, Tinder Gold, and Tinder Platinum. With this function on, you are free to be anywhere else as you like, and people matching to you won't see how nearby you really are. Now, you can upgrade your free account to either of them based on your requirement and budget.
☛ Steps to get another location with Passport:
Navigate to Profile -> Settings -> Location -> tap to choose and add new location to update.

# Way 2. Change virtual location and encrypt data with a VPN
VPN is known for the ability to protect online privacy and security, which is ultimately due to its server-in-the-middle workflow and unique encrypted tunneling tech. In a nutshell, when you connect to a VPN server in certain place, your original IP address will be masked and what you use for web requests is another one from the server location.
You can get solid yet affordable PandaVPN to re-locate your physical location to another one. You may not know that Tinder's location tracking runs with GPS, so PandaVPN's built-in feature – "Mock GPS location" – for Android and iOS can unify the location of server and GPS to the same one, in case the app discovers your IP address doesn't match the GPS location at all and blocks your use.
☛ Steps to change Tinder location with VPN (for free):
Download PandaVPN for Android/iOS (totally cost-free for new devices) and set it up on portable devices -> sign your account in -> go to settings panel and turn the "Mock GPS Location" on with other system settings made -> connect to a target server to make it seems as you are a native Tinder user, thus you can meet those Tinder-mates who are geographically close to you.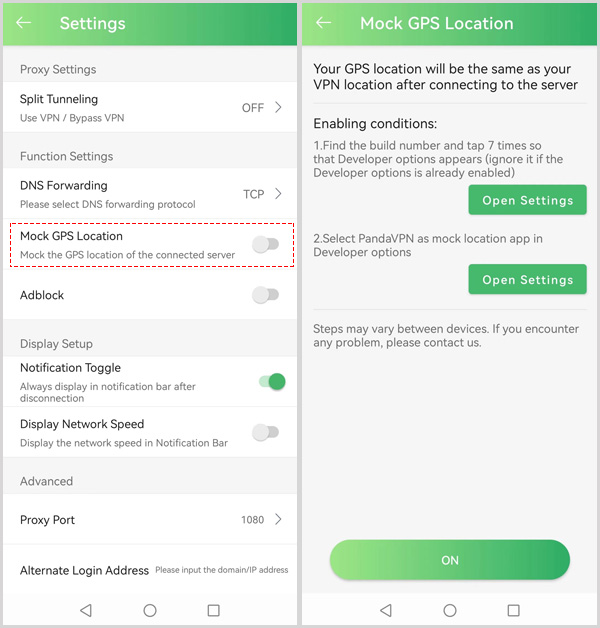 # Way 3. Trick Tinder tracking with fake IP/GPS location from non-VPN tools
Besides VPN, many other tools and methods can be used to hide IP address, such as using a proxy and going out for a public Wi-Fi. Some tutorials still demonstrate these manners. You can try them, but to a large degree they won't make any difference since Tinder is regarded as to use GPS to identify your true location. Therefore, it's more reliable to ask help for a GPS spoofing service to fake your GPS on iOS or Android, like:
– Fake GPS location: https://play.google.com/store/apps/details?id=com.lexa.fakegps
Such spoofers are widely used for locating users in other gym options for entertainment based on GPS location, like exploring fresh friends on Tinder and playing Pokemon Go. And the steps is quite simple, too. Before starting the steps, do remember to clear the cache and data in Tinder setting.
Get GPS switching app or browser plugin from store -> install it with proper permission -> choose the place you'd like to be and go to it -> go back to Tinder and update the distant perimeters for this new GPS location.
FAQs
Q: What's the difference between the three ways? Which is better?
Generally, they are jus two solutions for another Tinder location: one is given by Tinder team and the other is knack with third-party app. If you don't want to have extra program on your phone to do it, please level up your Tinder subscription. If you are hesitate in this, you can try VPN or GPS mocking app instead to see if it's just what you want.
Q: Is it legal to use VPN/GPS fake tools? Does Tinder allow the use of them?
To begin with, using a VPN or GPS spoofer is totally legal unless you are doing something illegal with it or your country has prohibited the usage of them nationwide. (>> See more details in "Is VPN legal/illegal in your country")
Then, some users wonder whether it's OK to run Tinder with VPN. The answer is a big YES. Tinder's community guidelines don't outline anything on or possible shadowban punishment of account due to VPN usage. But you are suggested to gain benefit of a VPN with GPS mocking feature just like PandaVPN to change your IP address and GPS location at the same time. If not, you are likely to be unable to swipe around other location.
With a VPN nearby, you can unblock more dating apps (e.g Match, Pof, Grindr, Hinge, and Bumble) to come across more romantic dates and relationships, as well as removing geo-restriction of any streaming services, games, and websites (torrent sites included).
Q: What are the top locations of Tinder? Any Tinder alternative dating apps?
Below we represent you some top locations Tinder Passport users choose most, according to the report from Tinder in 2021. Also some other welcomed dating app names are listed for you reference in case you are just a beginner and want to play this social game on more apps.
Top 10 Tinder Destination with Passport: 1. London (England); 2. Paris (France); 3. New York City (USA); 4. Berlin (Germany); 5. Moscow (Russia); 6.Stockholm (Sweden); 7. Rio de Janeiro (Brazil); 8. Sydney (Australia); 9.Barcelona (Spain); 10. Buenos Aires (Argentina).
Most Popular Tinder Alternatives: Badoo, Bumble, Hinge, OkCupid, Lamour, Tantan, Soul, Happn, Grindr, Plenty of Fish.
Exercise your rights to privacy in digital age!
Get PandaVPN
7-day money-back guarantee