What is IPv6? 6 IPv6 VPNs with Both IPv6 & IPv4 Support
Tony Bennett
2022.11.04
Knowledge Base
VPN App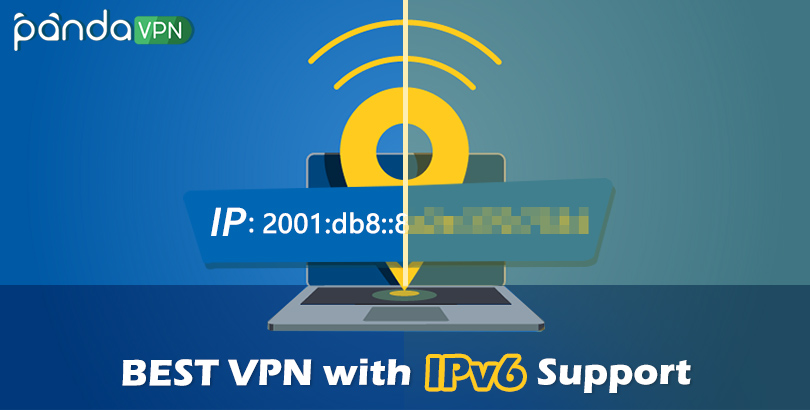 On November 26, 2019, the European Network Coordination Center announced that all 4.3 billion IPv4 addresses have been allocated worldwide. This means there are no more IPv4 addresses to allocate to ISPs and other large network infrastructure providers. However, this does not mean your current device will not be able to access the Internet.
As an alternative to IPv4, IPv6 is the latest version of the Internet Protocol. What is IPv6? What is IPv6 used for? What's the difference between IPv6 and IPv4? What VPNs support IPv6? How to use IPv6 VPN? How does an IPv6 VPN server work? This article covers almost all topics about IPv6. Just keep reading.
What VPNs support IPv6?
At present, the majority of VPN apps only operate on IPv4, including NordVPN, ExpressVPN, etc. However, there are already 21.5% of all the websites that use IPv6, including Google, YouTube, Facebook, Instagram, Amazon, etc. The ratio will continue to expand because IPv6 is the future.
Don't use IPv6 over an IPv4-only VPN! If you attempt to visit IPv6 websites over an IPv4-only VPN, the Internet will redirect your IPv6 traffic through the ISP. This way, your IPv6 traffic will be excluded from the encrypted VPN tunnel. In other words, your VPN will no longer protect your Internet traffic.
After a lot of hard work, we have found some VPNs that support IPv6. Check out the table below for several IPv6 VPN services.
| | | | | | | |
| --- | --- | --- | --- | --- | --- | --- |
| | IPv6 | Server Locations | Lowest Price | Free Trial | Refund | Jurisdiction |
| PandaVPN | Y | 170 | $2.49/M | 3-7 Days | 7 Days | Seychelles |
| Hide.me | Y | 75 | $3.99/M | N | 30 Days | Malaysia |
| Perfect Privacy | Y | 26 | $8.95/M | N | 7 Days | Switzerland |
| AzireVPN | Y | 22 | €3.25/M | N | 7 Days | Sweden |
| AirVPN | Y | 38 | €1.79/M | N | 30 Days | Italy |
| OVPN | Y | 32 | $4.22/M | N | 10 Days | Sweden |
Note:
1) Which servers support IPV6 is clearly marked by PandaVPN on its official website, go to its VPN server list to check it out.
2) Hide.me has a free VPN plan with 10GB of free data per month. There are only 5 server locations for free users, including 2 servers in the US and 3 servers in the Netherlands, Germany, and Canada.
3) Perfect Privacy is not a good VPN for streaming.
4) We find only 2 servers of AzireVPN support IPv6, which are located in Stockholm.
5) AirVPN offers a very unfriendly user experience that almost made us give up testing.
6) Italy, Sweden and Switzerland are not privacy-unfriendly countries, which might be a red flag for many people. See: 5, 9 & 14 Eyes >
In conclusion, we prefer PandaVPN because it comes with a large number of reliable features:
 Have the most server locations, with over 3,000 servers in 170 locations in 80 countries.
 Use ECC encryption and supports OpenVPN and WireGuard protocol.
 Generate random digital accounts and you can sign up without an email address required.
 It's very cost-effective and even offers a free trial. New Android users have a 3-day free trial without a credit card and new iOS users can try it for free for 7 days with a subscription.
How to Use an IPv6 VPN?
Now follow the steps to know how to use an IPv6 VPN. Since PandaVPN for Android offers a free trial without any limitations, we take the PandaVPN Android client as an example here.
Step 1: Download and install PandaVPN.
Go to PandaVPN's official site to download PandaVPN Apk. Install it on your Android phone or tablet and open it. You can get a PandaVPN trial account. Set a password and sign in to your account.
Step 2: Connect to the PandaVPN IPv6 server.
Enter the PandaVPN server list and select an IPv6 server to connect to. Check out the IPv6 servers supported by PandaVPN here. Or search for what you want in the app.
What to Do If your VPN Doesn't Support IPv6?
Currently, very few VPN providers offer IPv6 support. What should you do if your VPN does not support IPv6? You basically have three options:
1. Switch to an IPv6 VPN Provider
The best solution is to switch to a VPN with full IPv6 support. Among all the IPv6 VPN providers, PandaVPN is our top choice for its extensive server network, high cost-effectiveness, and strong security.
2. Use a VPN that Blocks IPv6
Alternatively, you can use a VPN that effectively blocks IPv6. Some big brands such as ExpressVPN and NordVPN are coping with the issue that they can't support IPv6 yet in such a way. However, IPv6 is the future. All VPNs will be forced to support IPv6 someday.
3. Disable IPv6 on your Device
The third solution is an effective fix for some operating systems. You can easily disable IPv6 on computers. However, many mobile devices today rely entirely on IPv6. It's more difficult to disable IPv6 on mobile devices. Here we show you how to disable IPv6 on Windows and macOS.
‣‣ How to disable IPv6 on Windows:
1) In Settings, open Network & Internet settings.
2) Press Change adapter options.
3) Right-click the adapter you are connecting with and click on Properties.
4) Remove the check mark from Internet Protocol Version 6 (TCP/IPv6). Then, press OK.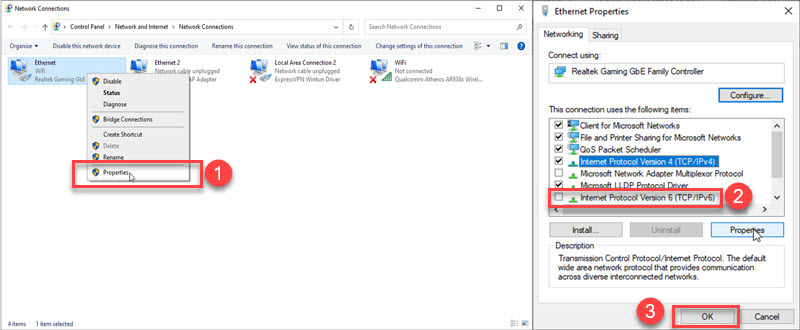 ‣‣ How to disable IPv6 on macOS:
1) Click on the Apple icon and select System Preferences.
2) In the System Preferences window, click on Network.
3) Select your active network adapter, Ethernet or Wi-Fi, from the left panel. With your active network adapter selected, click on Advanced.
4) In the Advanced menu, click on the TCP/IP tab. Next, click on the Configure IPv6 drop-down menu and set it to Off. Finally, click on OK to confirm and Apply to save the changes.
5) Restart your macOS computer.
What Is IPv6?
Now let's know more details about IPv6. IPv6 is the most recent version of the Internet Protocol, short for Internet Protocol Version 6. Internet Protocol is often abbreviated as IP, which provides an identification and location system for computers on networks and routes traffic across the Internet.
Born in December 1998, IPv6 officially became an Internet standard on 14 July 2017. IPv6 uses 128-bit addresses, theoretically allowing approximately 3.4×1038 addresses in total. It's complicated to move IPv4 to IPv6 as the two protocols are not designed to be interoperable.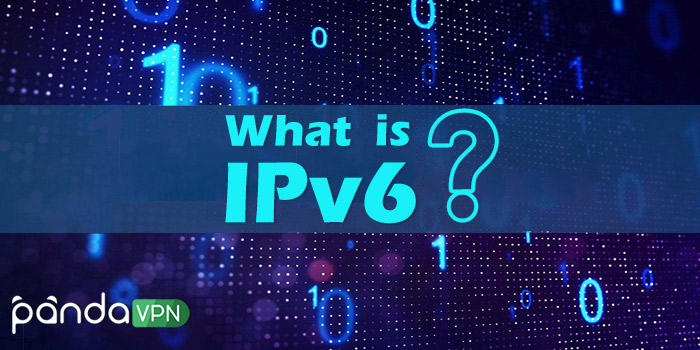 What is IPv6 Used for?
IPv6 mainly copes with the problem of running out of address space due to the increased demand for IP addresses with the rapid development of the Internet industry.
As an Internet Protocol, IPv6 also sets rules for the network address. The address it defines is known as an IP address. Every device on the Internet has a unique IP address for identification and location.
Here comes an IPv6 address example 2001:0db8:0000:0000:0000:8a2e:0370:7334, or it can be shortened as 2001:db8:8a2e:370:7334.
IPv4 vs IPv6: What's the Difference?
As an alternative to IPv4, IPv6 aims to overcome the shortcomings of its predecessor. There is the main difference between IPv6 and IPv4.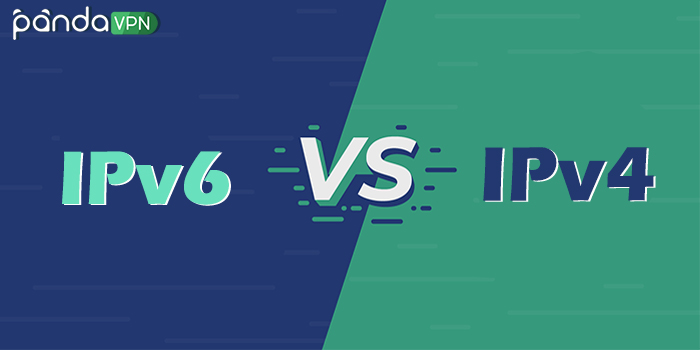 ‣‣ Larger Address Space
It was the exhaustion of IPv4 addresses that led to the emergence of IPv6. Without a doubt, IPv6 offers a larger address space.
Compared to 32 bits in IPv4, the size of an IPv6 address is 128 bits, allowing up to 3.4×1038 addresses. Simply put, every square meter of our planet has the possibility to have around 1564 addresses allocated to it.
‣‣ Multicast
IPv6 defines three types of addresses: unicast, anycast, and multicast. Multicasting refers to the transmission of a packet to multiple destinations in a single send operation. For example, it can be used to distribute audio or video streaming to multiple recipients.
‣‣ Stronger Security with IPsec
IPsec (Internet Protocol Security) is a group of protocols that are used together to set up encrypted connections between devices. It was originally developed for IPv6, but was widespread deployment first in IPv4. Now IPsec is an optional feature of IPv6.
‣‣ Faster Speed
IPv6 features a simplified header that is designed to be easier to process than IPv4. IPv6 uses extension header headers to place all nonessential information at the header end. The information in the front part of the header is enough for quick routing decisions. This guarantees faster speeds.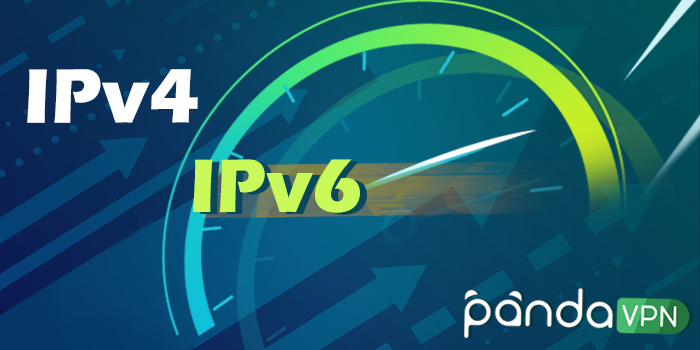 ‣‣ Auto-configuration
IPv6 allows stateless address auto-configuration and stateful address configuration to ease host setup. This ensures that inter-communication goes on regardless of the presence of a server.
‣‣ Greater Mobility
The mobility allows hosts such as mobile devices to remain connected to the same IP address even when roaming in different locations. This is achieved by automatic IP configuration and extension headers.
More Q&As about IPv6 and IPv6 VPN
Q: Is IPv6 faster than IPv4?
IPv6 is faster than IPv4 in network devices because it lacks network-address translation (NAT). Using IPv6 is a better choice for people that require high speed for their network processing.
Q: Does CyberGhost support IPv6?
CyberGhost does not support IPv6 now. The activation of IPv6 on your network may cause connection failure to CyberGhost's VPN servers.
Q: Is there an IPv6 VPN free?
Hide.me offers a free VPN plan with limited data and server locations. Hide.me claims to support IPv6 on all servers and it should work on the free servers too. You can try this one.
Q: Should I disable IPv6 for VPN?
If your VPN doesn't support IPv6 or have an IPv6 blocking feature built-in, you can disable IPv6 to avoid your IPv6 address leaking. Or, switch to an IPv6 VPN, for example, PandaVPN.
Q: Why is my IPv6 not hidden in VPN? How to stop VPN from leaking IPv6?
The reason may be that your VPN doesn't have IPv6 support. When you use IPv6 over an IPv4-only VPN, the Internet will route your traffic through your ISP. Namely, your traffic isn't under VPN protection.
To stop your IPv4-supported VPN from leaking IPv6 address, you can disable IPv6 on your device as the guide we mentioned above. Or, you can switch to a VPN that supports IPv6.
Exercise your rights to privacy in digital age!
Get PandaVPN
7-day money-back guarantee