Is VPN Illegal/Legal (to Use)? It Depends on Your Location and Act
Vic Knott
2022.02.07
Articles & News
Knowledge Base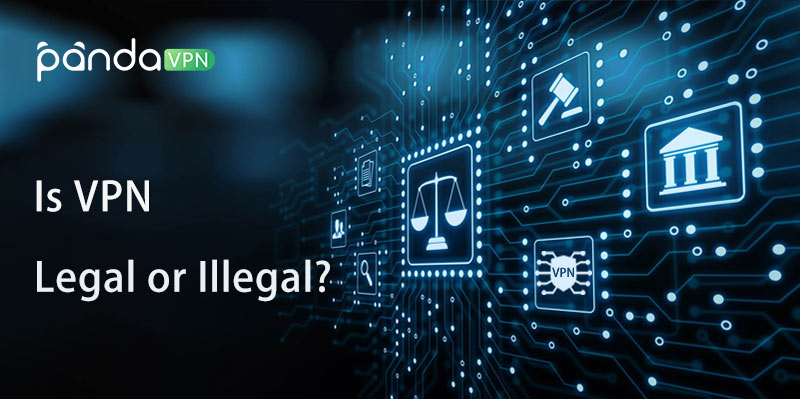 Are VPNs legal products? Is it legal to use such VPN software to access Netflix, surf the internet, play games etc.? Get answers to those questions at your fingertips from this article.
VPN is the abbreviation for virtual private network, referring to an encrypted private connection that's built between a device and a network to ensure all data transmitted is safe. As the explanation hints, the top reason to use a VPN lies in online security. Exactly it is, and set aside security, since the IP address is switched to another one distributed by VPN server connected, the VPN user can gain web anonymity and geo-locked-content unblocking benefits at the same time.
With the increasing awareness of network security and freedom, more and more common netizens start to utilize VPN services to protect and free themselves from Internet censorship and cybercrime on the web. In fact, the VPN tech is often used in corporate and public Wi-Fi environments by enterprises and the general public respectively. And in this post, we mainly put the focus on the legality of personal VPN software from consumer VPN providers.
Is VPN Legal to Use?
On the whole, VPN applications are legal to use in most countries worldwide. That said, if you are located in a VPN-monitored nation like China and Russia, or a VPN-banned one like Belarus and Iraq, you should take your VPN action seriously.
To help you know whether your place permits VPN usage or not, a detailed table is shared below, with three types of locations that have different attitudes towards VPN programs.
| | | | |
| --- | --- | --- | --- |
|   | Countries/Regions that permit VPN usage | Countries that partially ban VPN | Countries that completely ban VPN |
| Is VPN legal or illegal | Legal | Only government-permitted VPNs are legal, or personal VPN usage is not allowed. | Illegal |
| Examples | United States, United Kingdom, Australia, Germany, India, Canada, Italy, New Zealand, Spain, Dubai, Qatar, Sri Lanka, Japan, Nigeria, Pakistan, Switzerland, Nigeria, South Africa, Malaysia, Philippines, Thailand, Vietnam,  Egypt, Finland, Ireland, Poland, Saudi Arabia, Kuwait, Bangladesh, France, Hong Kong, Taiwan, Indonesia, Kenya, Singapore, Sweden, Bahrain, etc. | China, Russia, Iran, Oman, Turkey, UAE (United Arab Emirates) | Belarus, Iraq, North Korea, Turkmenistan |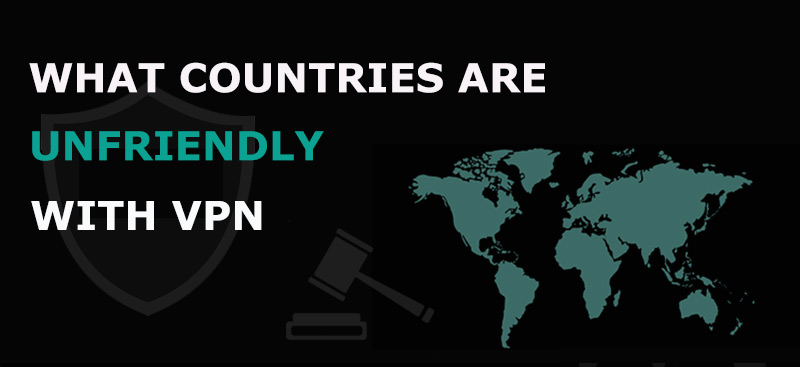 More details about the VPN-unfriendly areas shown above.
You're Suggested Not to Use VPN in These Countries
Belarus – VPNs have been 100% banned since 2015.
Belarus started the ban of all internet anonymizers since 2015, which aims to help people gain digital freedom and surely include virtual private network/VPN apps. In April, 2021, Belarus' parliament proposed several bills for further crackdown on the speech freedom of the general public and to influence the independent journalists' work in this nation.
Iraq – Both individuals and corporations are banned from using VPN.
Iraq, during the war with the Islamic State of Iraq and the Levant/ISIL in 2013-2017, took the measure of internet restrictions, including the usage of VPN, to defend against ISIL's social media manipulation. As one of the most heavily-limited countries on internet usage, Iraq seems to be unable to remove the full ban on VPNs due to the continuous terror threats from ISIL, also known as ISIS.
North Korea – It's illegal to use VPNs, for all locals.
The People's Republic of North Korea is such a closed-off nation that all citizens are living with strict laws and separated from the outside world. So, it's not weird that VPNs are forbidden and regarded as illegal tools. And anyone who uses a VPN may have trouble and be invited into the security agency.
Nevertheless, the government gives the tourists free internet access and the right to use VPN apps.
Turkmenistan – The VPNs are fully banned.
Turkmenistan is the last country with really heavy internet censorship. Even the only ISP is owned and controlled by the government. They don't want their people to get in touch with external media outlets and accordingly ban VPN usage entirely. If any user is detected using VPN or proxy (see difference between VPN and Proxy), administrative penalties and the "preventive conversations" to the Ministry of National Security are waiting for him/her.
Do Use VPN with Caution in These Countries
China – only authorized VPN services and usage are legal.
Early in 2017, China passed laws to make (using) VPN illegal. Therefore, Apple is continuously pulling VPN services from the China App Store. If one's business requires VPN creation or usage, to be a legal developer or user, he or she must get clearance from the authorities in China. It means, regardless of your reason to use a VPN, it's theoretically illegal to circumvent national internet restrictions with VPN.
China is a typical country with strict and complex Internet censorship. It's the well-known Great Firewall/GFW that conducts the cross-border network accessing limit. In recent years, although many VPNs have been disabled by GFW and removed from app stores, people can always find alternative tools or ways to bypass GFW. So, the government never stops its steps to upgrade and enhance GFW. That's why it becomes more difficult for VPN to work in China (especially during any big government event). Some even require users to do certain configurations manually, not friendly to beginners. Despite many VPNs not legal to use, until now, there have been no cases of users, esp. foreigners being fined by the government for daily VPN usage.
Russia – it's illegal to use VPN, unless you don't access blocked content.
Similarly, the Russian passed a related law to ban people from visiting blocked sites or apps with a VPN or anonymizer in 2017. Exactly, it doesn't prohibit VPN directly, but disallow the behaviors employing VPN and alike to access web source the government has added to blacklist. To raise the difficulty for common people to do so, Russia still shuts down many websites regarding VPN, anonymizer, and unblocking restricted content.
Iran – only officially-approved VPNs are legal (to use).
The Islamic Republic of Iran is also a known nation for its tight internet censorship. It started the censorship and stopped the entrance to VPN services in 2013, right before the presidential election. After that, it's hard for Iranians to get around the Internet filter and visit many top-ranked news sites, social media platforms, video streaming sites and so forth around the world. If any online activist, tech geek, blogger breaks through the limit, he or she in all probability will face punishment like imprisonment and torture. There are also government-approval VPNs. Obviously, those tools will collect your data and put it under surveillance.
Oman – VPNs are legal but individuals are not allowed to use it.
Early in 2010, Telecommunications Regulatory Authority/TRA from Oman published a draft regulation to ban individual VPN usage. If anyone breaks it, leveraging VPN to get around ISP censorship, use prohibited VOIP etc., RO 500 or 1000 will be fined according to the actual usage.
However, for the companies and institutions which need VPN for their businesses or security network, once they finish the registration from TRA, it's legal to use VPN.
Turkey – A new country tends to completely ban VPNs.
Although Turkey owns firm online censorship, especially on social media, and bans VPN and Tor usage, it's still legal to use them as long as you don't go to the blocked sites in this beautiful travel destination. The Nationalist Movement Party of Turkey just proposed a complete ban of VPN one year ago, so maybe in the near future, it will be totally illegal to have VPN running in this area.
UAE (United Arab Emirates) – Using VPN to access unblocked sites is legal.
In UAE, many companies, institutions and banks have involved VPN into their daily working for internal intention. These behaviors are legal while for any citizen who uses VPN or similar tools to hide the IP and turn to a new false IP to move on to undiscoverable actions, blocked sites or even cybercrime, this may lead to jail and fine sentence. All of these are stated in UAE Cyber Law. (See how to use WhatsApp/Facetime etc. with UAE VPN )
Is It Illegal to Use VPN for Streaming, Gaming, Torrenting…?
There are plenty of questions online asking whether it's legal to use a VPN for Netflix, Mobile Legends, torrenting and similar kinds of things. In short, in most cases, they are legally not illegal. However, if you are located in a place with tight online censorship, you are at risk of doing so. In addition, if you get and share unsanctioned copyrighted material from torrent sites and streaming platforms, it's undoubtedly illegal since you are against related copyright law.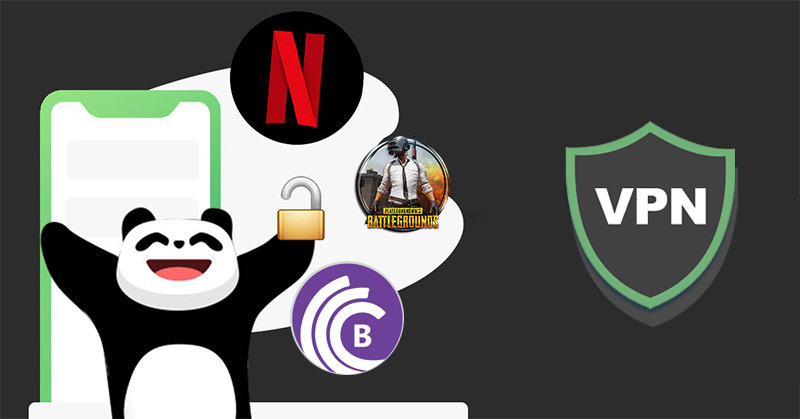 VPNs are badly needed because:
1. The popular streaming services like Netflix, Hulu, iPlayer, Disney Plus and HBO usually not only have various country support, but also offer different media libraries for each country or location.
2. The online censorship rules do vary from country. Being in a censored country, you are facing content blocking of different degrees, including video sites, games, social apps, news sites, blog platforms, forums, and content encyclopedias.
3. For various reasons say travelling, business trip, holiday taking, and studying abroad, the one leaves the home country and goes to another one with different Internet censorship. You'd like to seek online freedom.
4. You are using public Wi-Fi and worried about data security.
…
Regardless of the reason to use a VPN, please check and comply with the laws in your own country. If you don't have a VPN to protect your privacy and safety online, or your VPN doesn't work well, maybe with a slow connection, less available locations/IP addresses etc., here PandaVPN is strongly recommended.
PandaVPN has over 3000 servers in 80 countries, 170 locations across the world. By supporting ECC – the highest level of security encryption tech, patented acceleration tech in servers and zero-log policy, PandaVPN can help you enjoy anonymous and secure web surfing and unblock geo-restricted content at will.
Final Words
VPN tech is primarily created to improve online security by building encrypted tunneling via VPN protocol to transmit the data, which makes VPN apps essentially legal tools. What turns the VPN to be a banned program or the usage of VPN illegal? On one hand, since every coin has two sides, many lawbreakers commit crimes with the assistance of VPN. On the other hand, to shape a more harmonious and controllable online society, a portion of nations straightforwardly put VPN (usage) into partially legal or totally illegal status.
Exercise your rights to privacy in digital age!
Get PandaVPN
7-day money-back guarantee