How to Unblock Netflix on Computer, Mobile & TV in Any Region
Vic Knott
2022.10.17
Streaming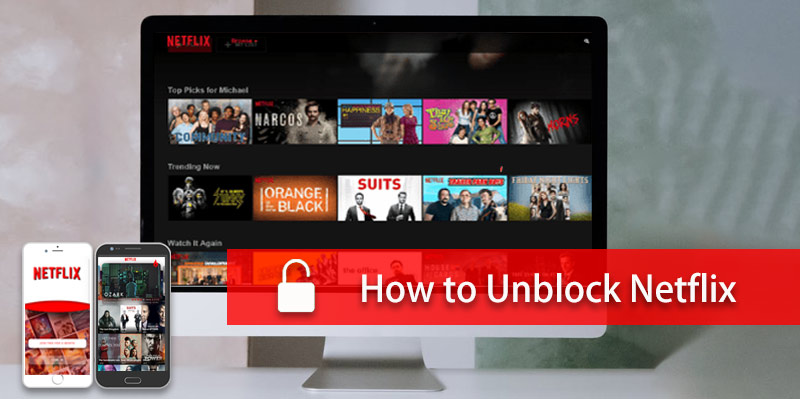 For various reasons, you may be unable to access Netflix or certain Netflix libraries to watch your favorite hot blockbuster movies, animations, TV shows, documentaries etc., hence this post will help you know why you are unable to watch Netflix and how to unblock Netflix (website/app) easily.
Netflix, although many people claim that it has gone down from its peak, is still the undisputedly #1 streaming platform worldwide thanks to its stunning original content, vast streaming library, first-tier user experience, and cover-all country expansion strategy. According to the most recent official report, about 2.4 million subscribers were added in the Q3, 2022 (more than half are from Asia Pacific area), and the total subscriber number has achieved more than 223 millions. Maybe it's hard for Netflix to get revenue growth as fast as before amid the economic slowdown time, so the platform claims that it will not provide users guidance but focus more on the revenue.
If you are unable to visit or subscribe to Netflix for entertainment in your country, school, company, or travel region, just follow this guide to have Netflix unblocked and regain the ability to do it.
How to Unblock Netflix to Watch Favorite Streaming Content
The best way to have Netflix unblocked is to take advantage of a Netflix-friendly VPN. Despite Netflix has the anti-proxy/VPN program, it only works with bad-quality services with insufficient servers and IP addresses. If the virtual private network provider prepares enough servers and IPs to the large number of users, there's no problem at all.
Here PandaVPN is such a Netflix-supported VPN to recommended here, with which you can bypass geo restriction of Netflix with clicks, no matter you live in a Netflix-unavailable country or in a Netflix-available place but want to change Netflix region to access global Netflix library.
PandaVPN is a cross-platform and slick Netflix VPN provider that everyone could use to unblock Netflix on computer, mobile, and Android TV, thus helping enter into massive content globally without restrictions. Now let's get together to see how it works with Netflix.
Step 1. Get PandaVPN and install it on your device
Click the button below or directly navigate to PandaVPN's order page to create a PandaVPN account with a proper plan according to your need.
Then download PandaVPN and finish the installation. PandaVPN is now compatible well with Windows, macOS, iOS, Android, Linux, and Android TV. You can keep it on any device that you will watch Netflix on.
Step 2. Connect to a Netflix streaming server
After setting the PandaVPN client up on your machine, launch it and finish the sigh-in. Then manually connect to a Netflix-supported server. PandaVPN sorts its rich lines into categories by both locations and purposes, such as Recommended, United States, Europe, China, Japan & Korean, Middle East & Africa, BitTorrent, and Game Proxy.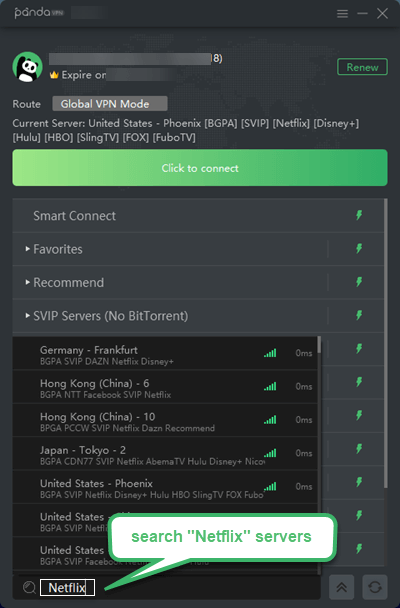 You can choose a server directly from hot Netflix places like the United States, Japan, South Korea, Germany, and India or search "Netflix" via the search box to list all Netflix-available servers and pick one from the results to connect.
Step 3. Access Netflix and start your Netflix journey
Depending on your device, you can visit Netflix.com from the browser or download and launch the Netflix App with the IP address from the VPN server now. Sign your account in (if you don't have one, do a purchase beforehand) and then navigate to your preferred catalog to initiate the full-filled Netflix marathon at will. If you want to watch Netflix from another country, switch the VPN server to the one in that country, but don't do this too frequently in case your account comes across an unexpected problem.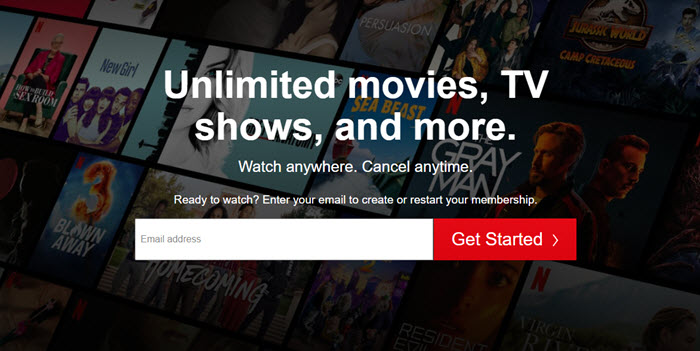 By following this guide, you can easily unblock Netflix on a school computer and in Netflix-unavailable countries (e.g. China, Crimea, Russia, Syria, and North Korea), and watch popular movies and TV shows on your computer browser, mobile, and Android TV
without problem. Still, since PandaVPN won't limit your connection speed and also help bypass IPS throttling, as long as the server is not overloaded, you can stream HD Netflix videos smoothly.
PandaVPN can act as an all-around streaming service unblocked, which means it not only works with Netflix, but also featuresunblocking HBO (Max), Hulu, ESPN, Disney+, BBC iPlayer, Channels4, Spotify, AbemaTV,SlingTV, FOX, NBATV, FuboTv etc.
* Netflix supports many platforms, if your goal is to unblock and watch Netflix on a Chromebook, Roku, gaming console, and so on platforms, you should seek help from a VPN compatible with those devices.
Unable to Enjoy Netflix? 5 Reasons That Netflix Blocks You
Under certain circumstances, you are not allowed to visit Netflix's official site or access the target library you'd like to. Let's see all of the possible reasons here for the Netflix ban.
Reason 1. Your home country is not supported by Netflix currently.
Although Netflix is now available in 190+ countries across the world, customers in a few countries including China, Crimea, North Korea, and Syria still have no chance to subscribe the great streaming service. That said, if your home country is either of those names, with the local IP address, you might can't visit Netflix and do further purchase at all unless you get a Netflix VPN to change IP address.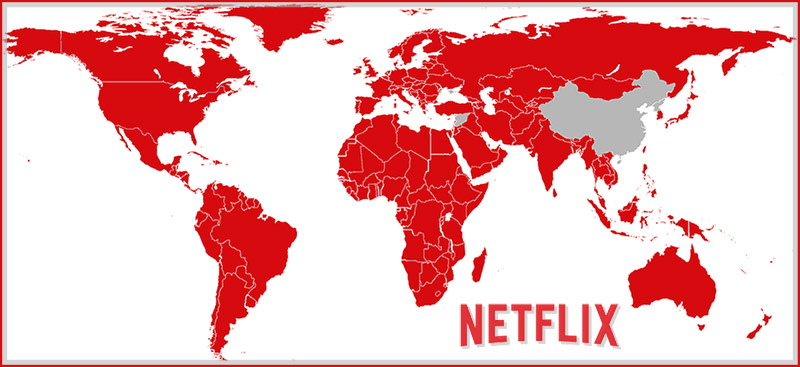 Reason 2. Netflix's available in your country while the LAN puts Netflix on the blacklist
Many countries have strict online censorship – banning porn, political media, social media, google, and so forth sites with their own national firewall tech. Similarly, any local network owner or administrator can define internet access permission, too. For instance, many employers block certain websites/apps from employees in the workplace to ensure a positive working atmosphere, the parents can forbid their kids to visit inappropriate content, the schools, universities, libraries, and some other public places can prohibit the WiFi connector from using bandwidth hogs.
Netflix, once being added to the blocklist of local networks, even if you are in a Netflix available location, you are kept out of Netflix's gate. To bypass the restriction, you simply need a proxy or VPN service to bypass the restriction.
3. You've moved to a country or region that doesn't embrace Netflix.
An example first: If one subscribes to Netflix in the United States but goes to a place like China where Netflix is not introduced yet, then he/she will become unable to use the streaming service like before. To watch Netflix like one does at home, the only way out is to hide the real IP address and leverage a new one from the home country accordingly. Regardless of the state or city, any IP within the country is qualified to see the same rich library.
4. Even when you come into a Netflix-available nation, you can't access original library.
Since Netflix pays for the license of streaming content differently by country and region, every country or region has its own licensed streaming resources and self-produced content. In other words, if you go abroad for work, study or travel, you will lose the opportunity to watch Netflix content in your home country's library unless the content is available in both regions.
At present, Netflix has over 17,000 titles worldwide and the Slovakia has the largest Netflix library (with over 7400 titles in total) while the Unites States (with 5800+ titles) is one of the top spots for many binge-watchers. Two things are clear: 1). No matter where you are, you cannot enjoy all of the Netflix titles at the same time. 2). If you don't live in the US, say UK, French, Canada, and Germany, you can't reach its library since your physical IP decides what library you can access.
5. You are using a proxy or VPN while it's detected and disabled by Netflix
Netflix has put increasing efforts into disabling proxies, VPN services, or other tools to re-route local traffic to another place to trick Netflix's (geo-blocking) mechanism. How does that happen? If an IP address (from VPN or proxy Netflix unblocker) delivers many accesses, or the IP address mismatches DNS settings, in all probability, Netflix will recognize that and block the IP or even the series of IPs generated by the same host. Usually, you will be informed with error messages like "You seem to be using an unblocker or proxy. Please turn off any of these services and try again" and "BLOCKED".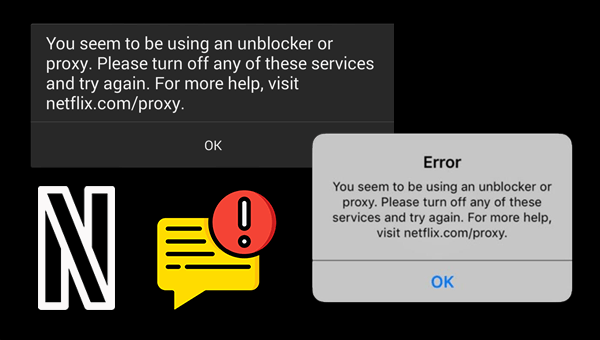 Note: Account sharing is the upcoming crackdown target of the Netflix team because according to the related report in 2021, about 40% of Netflix subscribers conduct password-sharing, causing a large number of economic losses, especially during the COVID-19 pandemic. Netflix now just requires verification to allow account login in other places simultaneously. However, it's hard to tell the anti-password-sharing project will carry out a more rigorous policy to prevent such behavior in the near future,
Will My Netflix VPN Be Detected and Not Work on It?
No VPN provider can promise you that the service is and will be 100% workable on Netflix and many more streaming services alike. That's because the real server configuration, number, usage condition and most importantly the VPN-blocking tech will affect the result jointly.
To avoid the VPN not working with Netflix or is easily spotted by Netflix, you're strongly suggested to turn to a top-ranked Netflix VPN with a broad range of servers, stable & fast connection, and of course a good reputation. PandaVPN is one of those fitting the bill. By supporting 80 countries and 170 locations on the earth, it allows you – the movie/TV connoisseur – to unblock any catalogue and title freely.
Is It Illegal to Use a VPN for Netflix?
Not illegal exactly. VPN is usually adopted as a tech solution to obtain online privacy and gain better internet security, and IP masking and alter is just the approach but not the objective. When you make use of its IP hiding feature to get rid of region-locked policy from Netflix, you just go against its terms of service and the platform can technically end your access to its library once you get grasped.
Set aside the Netflix platform, if your country, e.g China and Russia, has banned the usage of VPN or certain illegal VPNs, you'd better think twice before using VPN, not merely to unblock Netflix.
How to Unblock Netflix on a School Computer like Chromebook?
A large number of schools from the Unites States, Canada, and so on apply the Netflix access prevention rule. Not only Netflix, but also many other streaming services and social media platforms are among the access ban list. Actually, this is a typical example of Reason 2 we've mentioned above. And to unblock Netflix, as well as other blocked services and apps in school, a VPN is worth a try to beat school's firewall blocking.
– PandaVPN works with Netflix perfectly.With 3000+ servers in 80 countries worldwide, you can get a virtual IP from the United States, Canada, India,Japan, Indonesia, Hong Kong (China), South Korea, Malaysia, Singapore, Germany, France and many more places as you like and access the local Netflix library at will. The VPN supports computer running Windows, macOS, and Linux.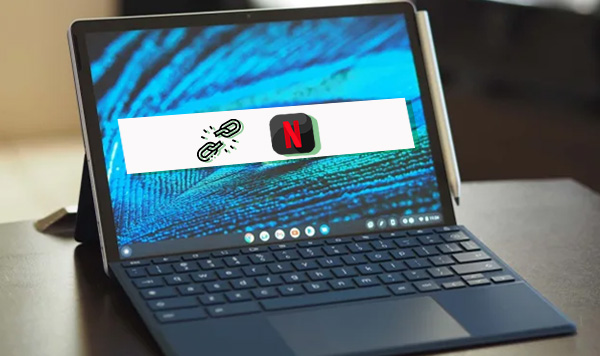 – To unblock and watch Netflix with school Wi-Fi on Chromebook, you need to get a VPN that supports ChromsOS or Chrome browser, like ExpressVPN and NordVPN, which are both known VPN applications.
How to Unblock Netflix Without VPN
Despite using a VPN is the most secure method to overcome various geo blocks, there are more approaches to get Netflix unblocked too, such as:
• Getting a Netflix proxy to change IP address just like a VPN does, but the traffic and data won't be encrypted and the connection stability seems less reliable than VPN. (VPN vs. Proxy)
• Leveraging a Smart DNS service to alter the DNS server address. As long as it's down and the device is restarted, the new DNS address will be activated and your region will be changed for that new region's Netflix.
Exercise your rights to privacy in digital age!
Get PandaVPN
7-day money-back guarantee