Best Free VPN Apps: 7 Completely Free VPNs for Windows, Mac, iOS, Android, etc.
Tony Bennett
2022.11.04
VPN App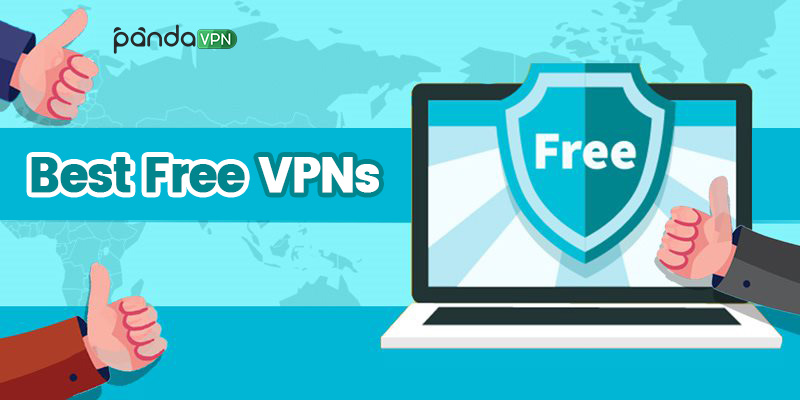 People use virtual private networks (VPNs) to hide IP addresses, lock internet traffic, and bypass geo-blocks. How about free VPNs? How far does a free VPN go to make you surf the web anonymously and access global networks?
The truth is most free VPNs come with data limits, unstable speeds, and restrictions on torrenting or streaming. Even worse, many free VPNs share user information with advertisers and contain malware. Annoying advertising is a small thing, and malware stealing privacy is big trouble.
However, not all free VPN apps are unsafe. In this article, we offer a list of the 7 best free VPN services and introduce their pros and cons. Also, you'll know where to download a free VPN.
7 Best Free VPNs for Download
After testing a lot of free VPN services, we conclude the list of the 7 best ones for free VPN download. Check the table to quickly know their pros and cons and where to download them. More details are followed below the table. These free VPNs are recommended in order of preference.
1. PrivadoVPN – Free VPN for Netflix US
PrivadoVPN is a Switzerland-based provider that offers both paid and free VPN services. The free version supports a zero-log policy, AES-256 encryption, OpenVPN, and a kill switch.
PrivadoVPN is a fast free VPN, offering generous monthly data up to 10GB. This ensures you can stream Netflix and other content and unblock P2P traffic. Work on unlimited devices, including Windows PC, macOS, iOS, Android, FireTV, and AndroidTV.
Surprisingly, this free VPN app gives you access to 12 server locations around the world, including the US, the UK, Mexico, Germany, France, Switzerland, Canada, Netherlands, and Brazil.
The biggest limitation is that PrivadoVPN only supports 1 connection at the same time. This means if you install it both on your laptop and mobile phone, you can use it one at a time.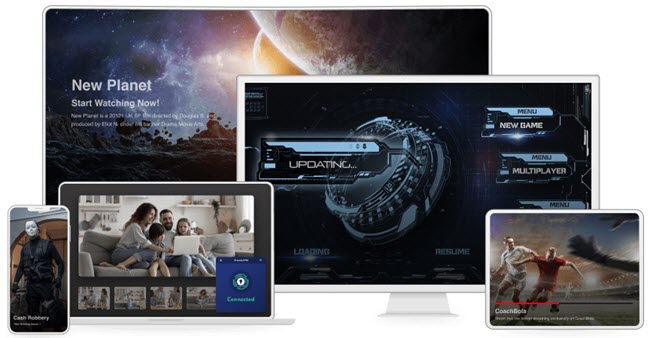 2. Windscribe Free – Unlimited Connections
Located in Canada, Windscribe is a good free VPN for Windows, macOS, iOS, Android, and Linux. A no-log policy is offered despite being located in Canada (one of the 5 Eyes affiliate countries).
Using Windscribe for free gets you 10GB of data every month. Work for HBO Max, Hulu and BBC iPlayer, but the US Netflix is an exception. Impressively, it supports unlimited connections so that you can use the Windscribe free version on multiple devices at the same time.
Moreover, Windscribe free plan offers access to 10 countries, covering the US, Canada, the UK, France, Germany, Netherlands, Switzerland, Norway, Romania, and Hong Kong(China). Thanks to the Stealth protocol, the free Windscribe works in heavily-censored countries like China, Turkey, and the UAE.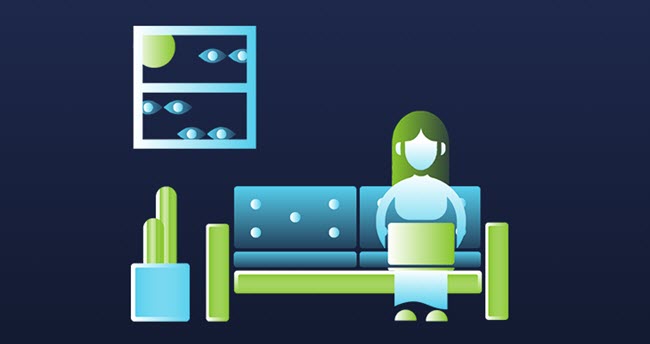 3. Hide.me – Free VPN with No Ads
Offering paid and free VPN service, Hide.me is based in Malaysia, a privacy haven. The free VPN app of Hide.me doesn't feed your ads to make money. And no registration and no sign-up are required. All this makes its no-log policy more credible.
The free plan offers 10GB of data every month and sets no speed throttling. There are 5 servers for free users, including 2 servers in the United States (East and West) and 3 servers in the Netherlands, Germany, and Canada. Here comes another good news the 5 free locations all support torrenting!
Although Hide.me free very occasionally works with Netflix and BBC iPlayer, it can't unblock Amazon Prime, Disney+, or DAZN. You can use it on Windows laptops or computers, macOS laptops or computers, iOS and Android mobile phones, and Linux devices. However, Hide.me free app only allows you to connect 1 device at a time.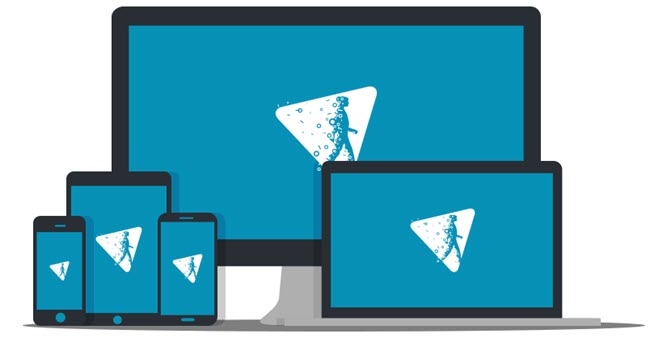 4. Atlas VPN – Good Free VPN for Mac
Based in the United States, Atlas Free VPN claims to keep no logs of your online activities. Upgrading to its premium version can enjoy an ad-free internet experience, better speeds, and 4K streaming.
Atlas VPN is a great free VPN for Mac and you can get a generous daily data usage of 2GB. Android, Windows, iOS, Android TV, and Amazon Fire TV users can get 10GB of data usage for free per month, without speed limits. Although the VPN supports many devices, you can only use it on two simultaneously.
Offer only 3 free servers, located in the Netherlands, Los Angeles and New York. All are P2P-friendly and support WireGuard, IPSEC/IKEV2, and Private DNS. Note that the 3 free locations can't access any streaming content, so Atlas VPN is not an ideal free VPN for Netflix and other streaming services.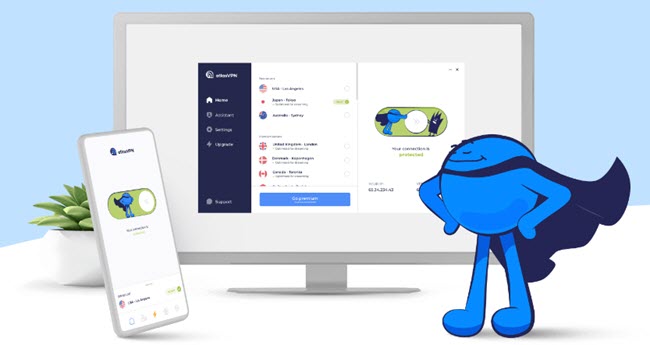 5. Proton VPN Free – Unlimited Data & No Ads
Headquartered in Switzerland, Proton VPN offers both free and paid versions. Notably, the free version contains no ads.
Proton VPN Free sets no data limits and delivers good speeds. The free version keeps all the key privacy features like kill switch, log-free policy, etc., to help you stay safe online. This provider has you covered with free VPN apps for all major operating systems, including Windows PC, macOS, iOS, Android, Chromebook, and Linux.
There are limitations too. For example, you can only get access to 3 server locations in the United States, the Netherlands, and Japan. Proton VPN Free provides no access to streaming services, P2P support, and game playing. Plus, you can only use free Proton VPN on 1 device.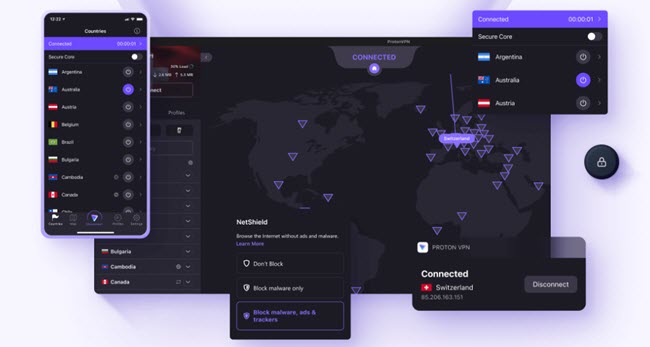 6. Hotspot Shield – Fast Free VPN App
Hotspot Shield has a free VPN that offers fast connections. Headquartered in the USA, it comes with a nontransparent log policy. Plus, it contains annoying ads. This means Hotspot Shield free version may share certain user information with third-party advertisers.
This VPN uses its proprietary Hydra protocol to offer fast streaming, gaming and browsing access. Even the free server produces impressively connection speeds. The only 1 free server is settled in the United States and doesn't work for gaming.
Torrenting is available, but the data limit prevents you from downloading any large files. The free plan is limited to 500MB of data allowance a day. As for streaming, when we were trying to access Netflix or any other popular streaming platform, we got the tips to upgrade to its premium version.
Hotspot Shield free VPN app works on Windows, Mac, iOS, or Android devices, but it allows only 1 simultaneous connection.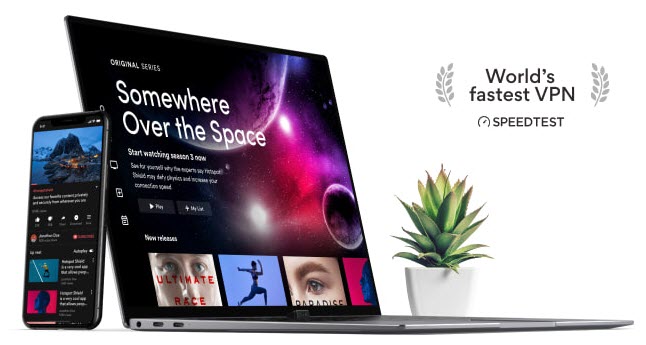 7. TunnelBear – The Most Server Locations
Settled in Canada, TunnelBear offers both premium and free VPN service that is best for beginners. The free version features the same security functions like AES-256 encryption, OpenVPN and IKEv2 protocol, split tunneling, and a kill switch.
TunnelBear Free VPN app only offers 500MB of data per month. Although TunnelBear Free supports streaming and torrenting, the severe data limit restricts you to stream and download large files. By the way, there are no speed caps.
Both the free and paid versions of TunnelBear allow you to connect to 5 devices simultaneously and you can use TunnelBear on Mac, Windows, iOS, and Android.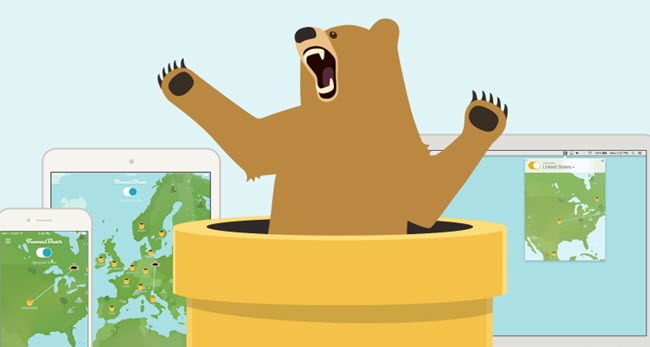 Be Aware of the Risks of Using a Free VPN!
As you can see, what we recommend above is actually the free version of paid VPNs. Providers of the premium VPNs often set restrictions on data and speed, support very few free VPN servers, and allow limited simultaneous connections. Also, streaming and torrenting is somehow restricted.
This is actually a marketing strategy for VPN providers to attract new users. The ultimate goal is to encourage free users to upgrade to paid subscribers. Anyway, such free plans are much more reliable than those VPNs that claim to be completely free. The big brands won't do things that hurt their reputation, so they are more secure to use.
If the above free VPN plans do not fully meet your needs, we do not encourage you to use VPN apps that claim to be completely free, for example, Hola free VPN proxy, SuperVPN, Psiphon Pro, Touch VPN, Betternet Free, etc. Trust us. They can't offer fast connection speeds and are much less likely to unblock streaming and torrenting services.
"There ain't no such thing as a free lunch." The free VPN providers are not charities. Maintaining a virtual private network costs money. What do they do to make money? The followings are some common ways that free VPN providers make a profit and the security risks of using free VPN services.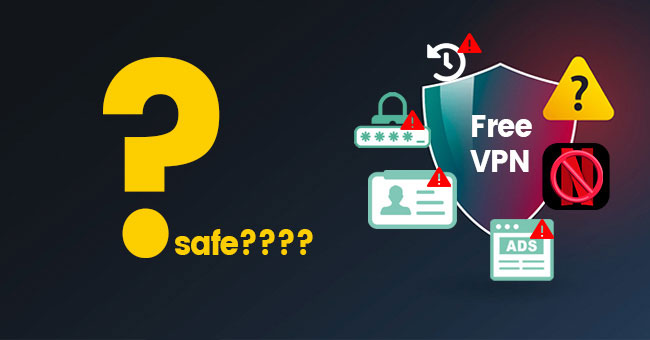 1. Ad Clicks
These free VPN apps usually have ads built in. When you open the VPN app, you have to watch several advertisements.
Even worse, the app interface might include a lot of tempting pages to lure you to click. The close button is usually not obvious, so you can accidentally click on these links and be taken to a phishing or other dangerous website.
This way, the free VPN providers can earn advertising fees.
2. Data Theft
The free VPN services we recommend above all state directly in their privacy policy that they will share your data with advertisers. As a result, advertisers can target ads to your preferences. This will increase the probability of your ads being clicked.
However, most free VPNs do not tell you in advance, which means you can have your personal information and online data stolen without your knowledge.
3. Virus Software
Some hackers will disguise the virus software as a free VPN. After downloading and installing it to your device, you can't use it at all. The malware will secretly collect your ID card, bank card, and other sensitive data in the background of your device.
The login information of websites and APPs you often visit is also their target. This way, your account is easy to be stolen.
VPN Free Trial Deserves a Try
If you no longer want to be tied to limited data and VPN speeds, try a free trial of a paid VPN. Many big brands offer VPN free trials that are secure, fast and have stable connections. After testing, here are our recommended VPN trials.
☛ PandaVPN Free Trial – 3 days for Android & 7 days for iOS & 7-day money-back guarantee.
☛ ExpressVPN Free Trial – 30 days refund policy, which means you can try it for free for 30 days.
☛ NordVPN Free Trial – 30 days refund policy, meaning that you can get a 30-day trial period.
Long-term VPN Users Are Better off with a Paid VPN!
If there is a long-term need, we recommend purchasing at least one paid VPN. Offering a competitive price, PandaVPN is our top choice. How is PandaVPN? Is PandaVPN safe? The followings are some of the highlights of PandaVPN.
 3000+ VPN Servers – Offer 3000+ servers located in 80 countries across 170+ locations.
 OpenVPN & WireGuard – Support multiple VPN protocols to protect your online traffic.
 Advanced ECC Encryption – Use strong VPN encryption to make you invisible from ISPs, advertisers and hackers.
 Strict 0-Log Policy – Automatically generate random digital accounts and you don't need to offer email addresses.
 Smart Connect & Quick Search – Support one-click smart connection. Also, you can search for target servers manually.
 Split Tunneling – Allow specific sites and apps to skip VPN protection and access directly over the Internet without sacrificing speed.
FAQs about Free VPN
Q: Is there a 100% free VPN?
Yes, but 100% free VPNs may not be safe. We encourage you to use the free VPN services offered by the big brands as we mentioned above.
Q: Which is the best free VPN?
Provado VPN ought to be the first choice if you are looking for a free VPN. This VPN app has 10GB of free data every month, offers 12 free servers in 9 countries over the world, and supports streaming and torrenting.
Q: What is the best free VPN for torrenting?
For torrenting, you can try PrivadoVPN, Windscribe, Hide.me, and Atlas VPN. Although Hotspot Shield also supports torrenting, it is limited by the fact that it only has 500MB of free data per day, so it's hard for you to download any large files.
Q: Can I watch Netflix with a free VPN?
Most free VPNs, with limited servers and slow speeds, barely support web browsing and do not support unlocking streams such as Netflix, HBO, etc.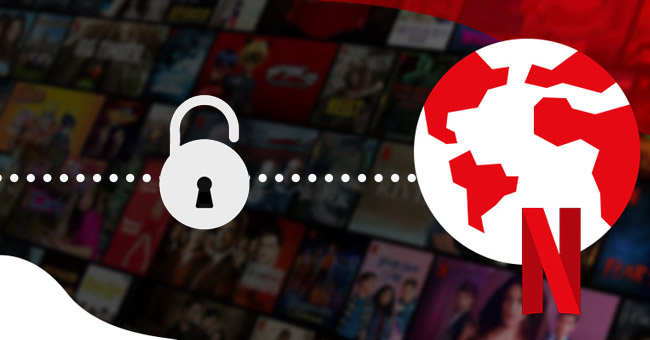 Unlocking Netflix requires bypassing geolocation restrictions, which places a huge demand on the speed of a VPN. As you can see, some of the free versions of the paid VPNs we recommended earlier don't support unlocking Netflix, let alone those that are completely free.
Among our recommended free VPNs, which is the best free VPN for Netflix or other streaming services? During our test, PrivadoVPN and Windscribe support streaming.
Q: Is a cracked VPN safe?
Compared to those completely free VPNs, cracked VPNs are much less secure. VPN cracks often have built-in Trojan horses or rogue software, making them extremely risky.
Take PandaVPN as an example. We encourage you to download the Linux, Android TV, Mac, or Windows version of PandaVPN from its official website, or go to the Apple/Google app store to download PandaVPN for iOS or Android. Of course, the official website also provides VPN installers for mobile phones.
This way, you can be sure that you will not install any virus software.
Exercise your rights to privacy in digital age!
Get PandaVPN
7-day money-back guarantee